I had the priviledge of making this award for
Ron Joyce - Philanthropist of the year 2016.

Husky Trinity 2016
Private Commission Memorial Window

Teresa ( our window ) is beyond spectacular we absolutely love it!!!
It changes by the hour in terms of colour and everything is beyond
what we imagined!! Thanks again is perfect!!
Dave

Three Seasons 2016
Private Commission

WOW!, WOW!, and WOW!
I am staring at your art work in different lights as the sun heightens
in the sky…..beautiful cascade of changing tones and hues.
It's a masterpiece!!!! Thanks for bringing it over today.
Steve Lipinski

Fence Line 2016.
I was brought in this century old frame form their Grandmother's House.
Here is the final piece.
"Turning for Home" 2016
Georgetown ON




Burlington Mural Project Dec 2015
Judy Mayer-Grieve: King Road Underpass, Ward 1
Claire Hall: Freeman Station, Ward 2
Teresa Seaton: Amherst Park, Ward 3
Hannah Sell and Liam Racine: Port Nelson Park, Ward 4
Tamara Kwapich: Orchard Community Park, Ward 5
Donna Grandin: Ireland Park, Ward 6
March 2016

Guitar Hamilton will be raffling a panel of mine.
Was thrilled to be asked to design and fabricate, using paua shells around the hole.
For more information contact www.guitarhamilton.com

Teresa Seaton & George Wilkinson
Walnut and Maple Bowls • Wire Trees and Glass Trilliums
Collaboration X and XI 2015
The following bowls were commissioned for Halton Heroes Fundraising Event.
Bowls were awarded to Heather Hiscox of the CBC
and Jack Moreira of Burlington Convention Centre
Private Commission 2015, Hamilton ON

Moonlight Serenade 2015 -Private Commission

BURLINGTON, ON – June 5th 2015
The Burlington Performing Arts Centre is pleased to announce its
2015 Hall of Fame Inductees: Lawrence Bonanno and Stuart Laughton.


Burlington's Best Awards 2015-2019
I was very proud to be able to make these awards for so many years.
Even got the chance to have one awarded to myself in 2018

Congratulations 2015
Citizen of the Year Ron Foxcroft
Senior Person of the Year Bonnie Purkis
Junior Citizen of the Year Kevin Han
Arts Person of the Year - The K.W. Irmisch Award Tomy Bewick
Environmental Award Susan Fraser
Community Service Award Mary Nichol
Heritage Person of the Year Award Dave Morris (posthumously)

Singing Nights 2015 - Private Commission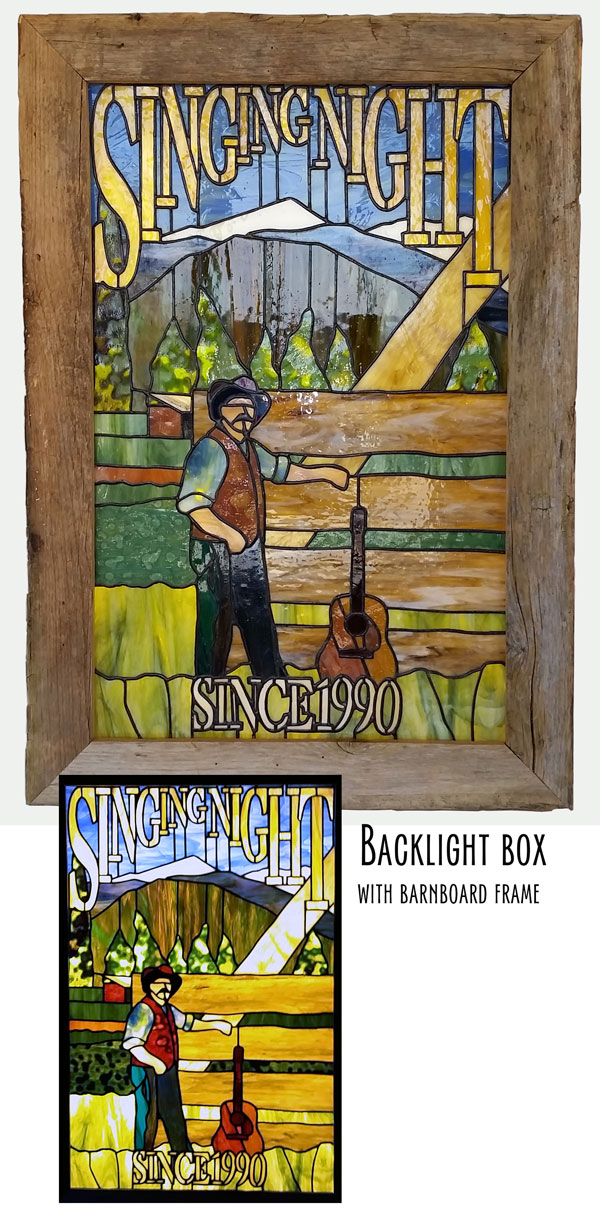 Basking Birches 2015 - Private Commission


Landscape for Private Commission Burlington 2014

Frame made for 330 year old scripture, 2014

Congratulations to Rainer Noack
Burlington Performing Art Centre Hall of Fame 2014
Presented at the Mayor's Cabaret 2014

I was honoured to be asked to design and fabricate
BurlingtonGreen Eco Awards 2014
Congrtulations to

Field and Stream Rescue Team

O.C. Tanner Recognition Company Ltd.

and The Koster Family

Awarded also
Emshih Developments Inc.
Community Champion Sponsor
of BurlingtonGreen's 2014 "Experience a Revolution" Events

and Rob Stewart
"Experience a Revolution" Documentary


Photo Creds go to Nikki Wesley - she was awesome
I am so proud
Silver Fern
Private Commission - Burlington Ontario
Was a very dark room so we kept most of the glass transparent.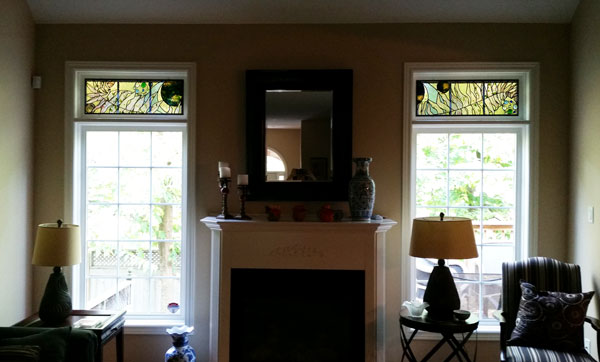 Walter Mulkewich Family Farm 2014
I was asked to by Walter to design and make this panel for his sisters 80th Birthday.
Very Honoured

I was honoured again to be asked to make the
2013 Burlington Best Awards

The 2013 winners pose with their awards. From left to right:
Mayor Rick Goldring; Maggie Wheeler; Paul Toffoletti; Jean Longfield; Chad Buisman; Selina Jane Eckersall;
Trent Schwartz; and Peggy Armstrong, accepting on behalf of her late husband, Les Armstrong.

Black Trees Double Panel 2014
Private Commission, Toronto


Installed with the sun shining on it...

Wedding Gift Commission 2014
Burlington

Prevailing Winds & Moon with Stand 2014
Private Commission, Ottawa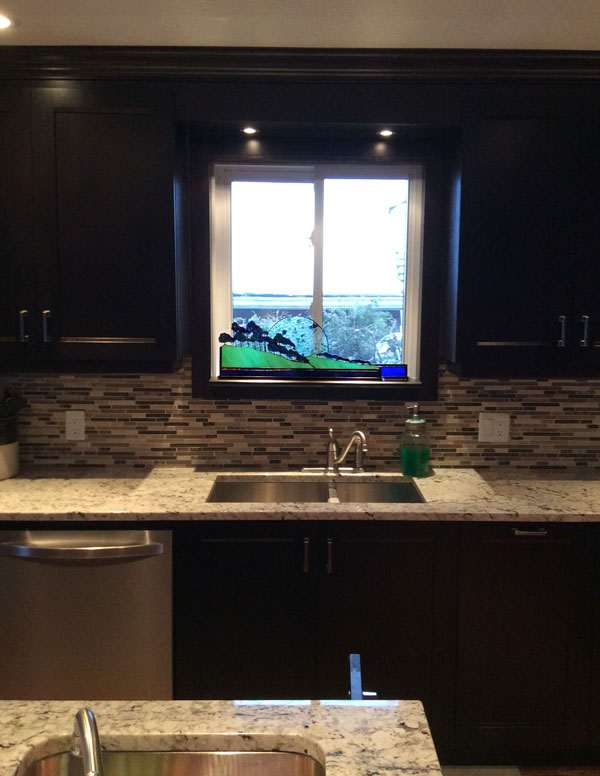 Clear Abstract 2013
Private Commission, Burlington

River Valley 2013
Octaganol Stained Glass
Private Commission Aldershot

Scribble Rose 2013
Tri Layered with Stand
Private Commission Ancaster

Burlington Performance Art Centre Hall of Fame 2013
I was honoured to make the award for the first inductee, Gordie Tapp.
Presented at the Mayor's Cabaret 2013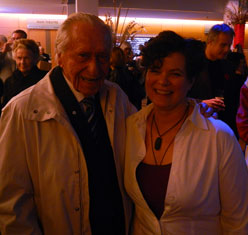 Clematis Chaos 2013
Double Layerer Stained Glass and Spun Wire
Private Commission Mississauga


We just wanted to let you know how much we are enjoying your glass art.
I'm including 2 pictures that don't really do the piece justice.
Chaos hangs in my office and can be viewed from the main hallway.
I just love the piece and how well it fits l with its surroundings!
Thanks again. Patrica Griesser and Loren Bandiera